Business Trip Meal Podcast Episode 5






Podcast: Play in new window | Download (Duration: 13:47 — 12.6MB)
Subscribe: Apple Podcasts | Google Podcasts | RSS
In this episode you will listen to three short tales related to the business trip meals.  These are the first stories of a series of twelwe I will be delivering in this and the next three episodes.  All happened to me or to someone who told me the story.  You might feel related to some of those tales and may enjoy remembering some funny and other not so funny situations.
Hello and welcome tho the Business Trip Meal Podcast, My name is Mario Alvarez and I'm your host.  Today I will be reading three of twelve short tales I wrote about some experiences I had during my carreer that are about having a meal with the boss.  During my carreer I met several people in the role of direct boss or boss of another entitiy with wich I was collaborating.  Some interesting experiences occurred thanks to the interaction with those persons.
Business meals with your hierarchy. Cases 1-3 of 12.
1 Interview with a VP for a new position abroad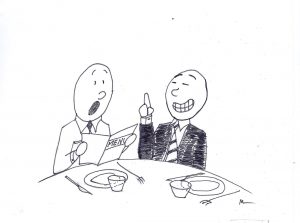 In 1999 I made my first visit to the headquarters of the German company that had hired me in Mexico a year earlier.  There I met a sales man from the office in France.  I told him I would love to work in Paris.  He recommended I speak to my director back in Mexico, which I did.  His answer was "off course we all want to live in Paris but for our local office it makes more sense if you go to the tech center in Detroit or the plant in the north of Mexico.  Be patient I will have you in mind".  Almost four years went by and no feedback came from that director.  Nevertheless on my side I had kept the contact to the French colleague who gave my CV to his boss in Paris.  One day I got an email from that boss, Mr. B.  Somehow I knew what it was about.  They needed someone with my profile in their team.  I should start immediately. In those days I was going to take an important customer to Germany and France to visit our facilities and a trade fair.  The timing could not be better.  I made an appointment with Mr. F. who was the boss of my future boss Mr. B.  We were going to have dinner in Mannheim.  I was staying at the Tulip in and had to meet Mr. F. in front of the hotel Maritim.  That is a ten minutes' walk but it was snowing so I left earlier to be on time.  When I arrived a blond man with glasses and a long blue coat approached me, M. Alvarez? Mexicans are easy to notice in Germany. I was not wearing a sombrero but a tanned skin is not common in Europe in November.  Mr. F. had chosen a Steak house, The Buffalo which no longer exists.
We walked to the restaurant.  Once at our table Mr. F. broke the ice by saying, "Mr. B. sent me your CV and your profile corresponds to our needs.  Can you start next month?"  We then had a long conversation about all aspects related to the new position, about having to move to France and about the countries I would be visiting to see customers.  Language was an important subject during the conversation.  I had already explained that being Mexican my mother tongue was Spanish.  I went to a French speaking school for fourteen years when I was living in Bolivia, my father's country.  I had learned English in high school and in college and I was learning German since I had joined the company four years ago.  I told Mr. F. That I did not feel very confident yet with my level of German and might have to continue taking lessons when I move to France.  His answer was, "I have heard how you ordered your Rinder steak mit Pommes und Salat and your Hefeweisen you will not need more than that for the moment but  I  want to let you know that your language knowledge might need to be expanded some more.  Most of the customers you will be following for the new project are located in Italy.  I recommend that you start learning Italian immediately."  That night I could not sleep very well, Dinner had been heavy and emotions intense.  I had a weird dream; I was operating an elevator at the Babel tower.
Lesson: As Heraclitus would say "always expect the unexpected."
Tip: Welcome any possibility to broaden your culture.  It can only open more and more doors in the future.
2 Intimidating dinner with the future boss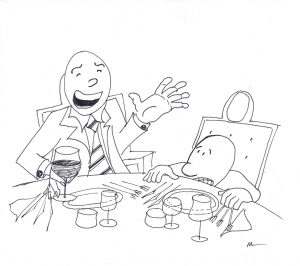 After the meeting with the VP I had an appointment in Paris with the regional sales manager who was going to be my boss.  Mr. B. picked me up at the hotel.  He was looking as if he had just had a photo session for GQ magazine.  Fortunately I had asked at the reception about the restaurant we were going to visit.  The clerk said "Oh la laaaaa" and then said "oui, go back to your room and put a nice tie on".  As we drove through Paris, we started a quite standard discussion, Mexico, family, hobbies and sports.  It had been some time since I left high school and my French needed some "maintenance".  Mr. B. corrected one of every ten words I said as if he was a teacher giving a lesson.  When we arrived to the restaurant a "valet" took the keys of the car and parked it somewhere.  When we entered the place the maître greeted Mr. B. and then looked at me from my head to my feet as if he was assessing if I deserved to have dinner there.  He grinned and we followed him to our table.  I took my seat and the conversation went on with the same language mistake correction procedure.  In front of me was a plate of beautiful Limoges china surrounded by a dozen of cutlery elements, I remember three forks, three knives,  three spoons and a clip for snails, I guessed.  Two glasses for wine and another for water were also there and a nice napkin folded as a Spanish fan.  The waiter came followed by the sommelier.  They did not have any menu on paper format but they recited the menu that the "Chef Étoilé" had prepared as well as the "suite" of aperitif and wines selected for each meal.  Then Mr. B. and the sommelier started a high level connoisseur discussion about the champagne that was going to be the aperitif and about the wine selection.  At that moment I started to be a victim of the situation. Been a new kid on the block, the tie issue, the correction of my French by the boss, the overwhelming cultural shock at the restaurant,  were making me feel very very little.  But the worse was about to come.  After a tasteful dinner and a discussion about the new position I was programmed to accept the income with no discussion.  Mr. B said "tomorrow you will meet the boss of our human resources department.  He is a very cultivated man and has a lot of influence in the organization.  Be careful, don't make him angry".  Then I was screwed.  I was so intimidated when the negotiation for my salary happened that I took what was offered to me and accepted all few arguments given to justify it.  It was not a bad salary; it's just that I did not open my mouth before signing.
Lesson:  Being impressed too fast will put you in a week position and let others manipulate you.  If you do not have a plan someone else will make you part of his plan.
Tip:  Instead of being afraid be open to learn, ask questions and show authentic interest. Do have a plan.
3 Breakfast with a Misfit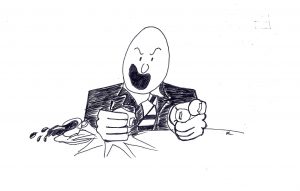 During my first week at the new job in France the top management explained to the team the strategy for the project I was hired for.  It was a global project and in my case I had to support the sales people in France, Spain, Portugal and Italy.   My boss suggested to meet with all regional managers first and later the sales people.  "Mr. C. sales manager from Italy is tomorrow at the same hotel with us in Germany, may be you can have breakfast together and know each other".  I called Mr. C. and my first impression was positive, he sounded friendly on the phone and he made even a couple of jokes.  When we met the next day at the hotel restaurant he did not sound the same way.  His first words after answering with a short "Hi" to my "Good morning Mr. C. I'm pleased to meet you" were "I do not care what your French boss pretends or what the strategists at the headquarters plan that we do.  In my country you will do what I tell you to do and nothing else."  It was clear that for some reason Mr. C. was not in line with the new project and he would make my work in Italy very uncomfortable.  For a moment I was speechless.  One day you have a call with a nice guy and the next he turns to be a misfit that will create conflicts in your working field.  Since the meeting with Mr. M. from human resources I was mad at myself because I had been intimidated by the situation and had decided to change my attitude in order to avoid similar things to happen in the future.  The first opportunity to challenge myself was there quite fast.  After expressing his feelings Mr. C. continued eating his breakfast and started to ignore me.  I finished my coffee and said "If you are not happy with the new strategy you should tell that to those who created it and those who want to implement it, not to me".  I stood up and left.  Later I learned that Mr. C. was a difficult boss feared by his workers.  We met several times after that first breakfast and he was always politically correct towards me.  I guess the best thing I did was leaving our first meeting.
Lesson:  Inside an organization not everybody will agree with the top management and might turn into a pain in the ass.
Tip:  Leaving the meeting room is a powerful negotiating statement as explained by Karras* use it carefully though.
Thank you for listening to this episode I hope you enjoyed the stories.  In the next episode three more stories will be told.  In the mean time I wish you good businesses, great trips and even better meals.  Goodbye.
---