BTM12: Turbulent Business Trip to Greece






Podcast: Play in new window | Download (Duration: 12:47 — 11.7MB)
Subscribe: Apple Podcasts | Google Podcasts | RSS
Hello my name is Mario Alvarez and I am a business traveller.  This is chapter 12 of the Business Trip Meal Podcast and we will talk about my first visit to  Greece, most precisely to the city of Xanthi and the travel, business and meal events that occurred during that trip.
My first ever visit to Greece started on a Monday with quite some turbulence.  I woke up early and still had the time to take my kids to school. My older one had music class and even if I had asked her the day before if everything was ready we got our first stress moment of the day looking for her flute which was impossible to find and we had to leave after I had written a quick message for the teacher asking her to excuse my daughter for this time.
I drove back home picked up my luggage had a last week briefing with my wife then I took the road.  During the weekend we had some snow which had frozen on the roof of many cars. On the road that day from time to time big ice blocks would fly from the roof of trailers or other cars scaring everybody driving behind them.  This situation and the Monday traffic, put some more stress hormone on my blood. In any case I made it to the airport one hour before boarding. Normally I fly with Lufthansa but this time my flight was booked with Aegean Airlines, the Greek company.  I found the counter at the B area of the airport in Frankfurt and saw that a very long queue was forming for check-in.
The colleague I was flying with called and told me that he was standing on an even longer queue  before the security control, he advised me to reach that next waiting line as soon as possible. Despite the stress the three counter employees managed to do the work fast enough for me to run to the safety control twenty minutes before take off.  Thanks to my frequent traveller status I could go through the fast lane quite fast indeed. I was convinced that since so many people were going to be late the plane could not leave on time so I stopped for a sandwich at the Meyer cafeteria and walked to the gate while eating a sandwich and drinking a coffee.  To my surprise when I arrived to the gate all early passengers were on board.  I called my colleague and unfortunately he was still on the queue and had not even reached the access doors.  I explained the situation to the airline crew and they told me that there were only fifteen minutes before closing the door.  I got in the plane and never saw my colleague get in. Ironically after the door was closed the delay provoked that we stay another ninety minutes sitting on the plane before take off.  I guess we had lost our turn and other planes would leave first.
When I landed in Thessaloniki two colleagues were waiting for me.  N. who was responsible for the customer and D. was the northern Greece salesman.  They already had talked with C. on the phone and were aware of him missing the flight.  We took the road for two and a half hours and arrived to Xanthi. We checked in at the hotel Elissos and agreed to meet in half an hour at the reception to go for a walk and have dinner.  The walk was short but necessary, my legs needed some movement. When we arrived to the restaurant I was starving. D had chosen the Fanarakia restaurant he promised a great dinner. The waiter gave us the menu and left.
This was my first confrontation with the famous Greek alphabet.  My right brain hemisphere was amused the left one was confused.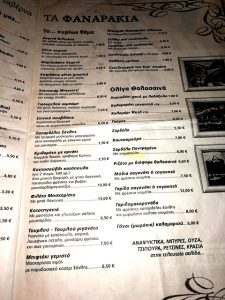 Of course I let my two colleagues choose for me and trusted their good taste.  First things first bread and redwine were brought to the table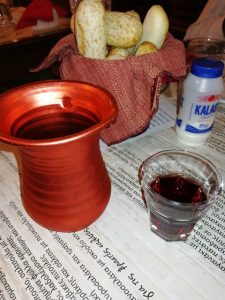 Then appeared the famous Tzatziki in a generous portion.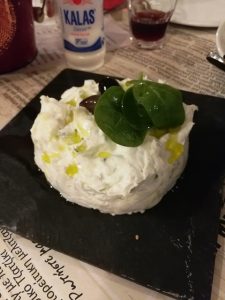 After that we got a huge salad with cheese and sesam bread.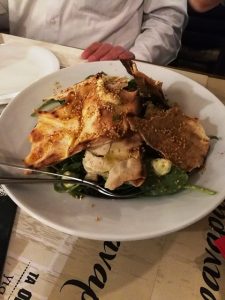 Which was followed by some kind of jelly jar filled with fetta cheese and a green sauce.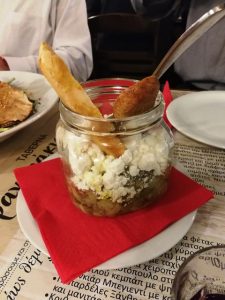 Another specialty based on fetta cheese was a mix with eggs and peppers.  Absolutelly delicious.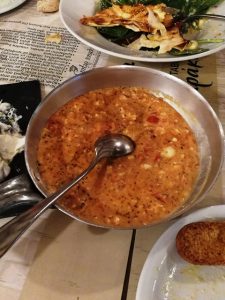 At this point I was starting to slow down my emotion for the completely new flavors I was discovering because we were still waiting for two more starters before the main dish arrived.  That was a plate of rolls of goat meat with onions and french fries and a pan full with sweet potatoes, muschrooms and yoghurt.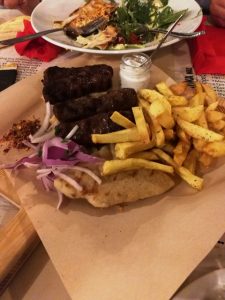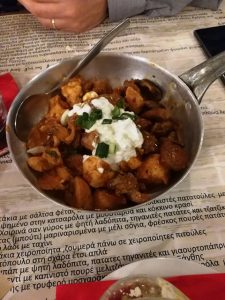 Finally the main dish arrived.  I had no more room in my stomach.  Two sirloin pieces some champignons and onions.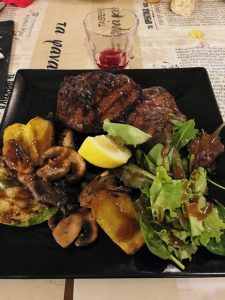 Of course there is always place left for the dessert, we shared a piece of goat milk panacota.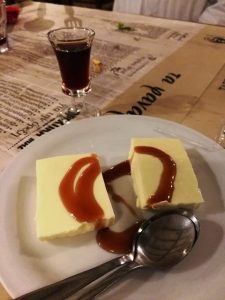 The next day we had a quick breakfast at the hotel and then left to visit the customer.  Our task for that visit was to test two of our raw materials to produce packaging for dayry products.
We were received by the project manager and followed him to the meeting room we sat aroung the table.  In the middle there was a phone conference spider and two big plates with pies one kind was salty filled with Greek cheese the other one sweet filled with pumpkin compote and honey.  Of course we were offered lots of coffee to drink with the pie.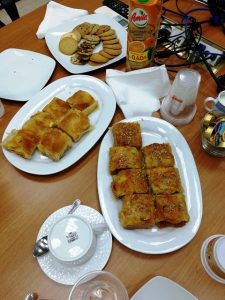 The trials took several hours and during the breaks we managed to empty the two plates and to drink a lot of coffee.  The results of our first tests were positive. The project manager and the technicians invited us for a late lunch. They wanted to take us to the same restaurant we had visited the night before.  As one of my colleagues explained we had already been there they improvised and found a place still open around four o'clock when we finished our work. We went to a seafood restaurant. It was the Koralli,  I can only give you the adress verbally, it was on Demokritou street in front of a Lidl supermaket.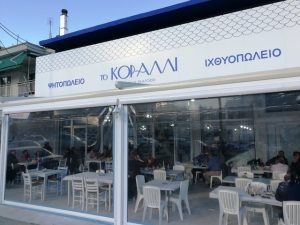 The principle at that place was that you could choose fresh fish yourself at the store behind and it would be prepared right away.  One of the technicians asked if I was familiar with the different sorts of fish in front of us. I told him I would blindly try his recommendation.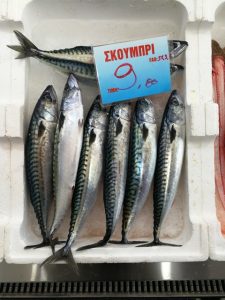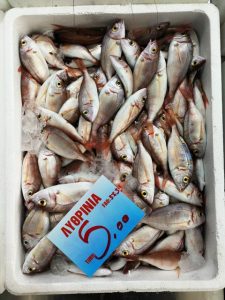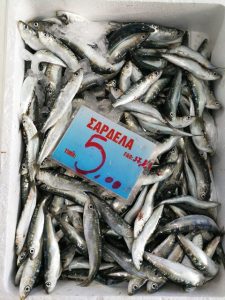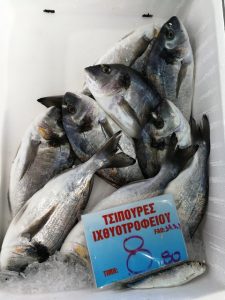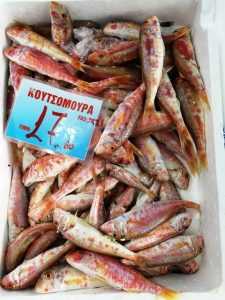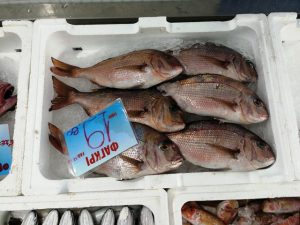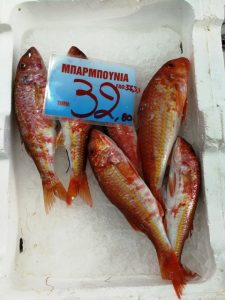 We went back to our table were several bottles of the national drink Ouzo were waiting for us each one in an ice bucket.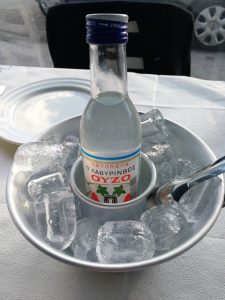 The taste of Ouzo reminds me that of Pastis which is very popular in France.  When I finished high School my classmates and i made a trip to Paris and Lyon. We committed some abuse corresponding to that age and times, one of those involved pastis.  Drinking the Ouzo brought back some painful memories.
The first dishes arrived, Greek salad and smoked salmon with peppers.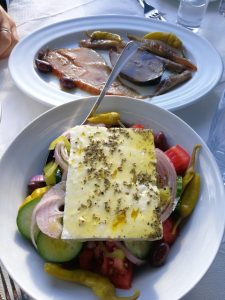 The Greek tomatoes are so tasty they took the top place of my personal ranking over Spanish tomatoes.  It is a good moment to tell you that you find pictures of the dishes and links to the restaurants and other products mentioned in this chapter on the show notes.  Just go to businesstripmeal.com and look for chapter 12 titled Turbulent Trip to Greece on the podcast list.
Another salad also with cheese and dried tomatoes was served it was also very tasty.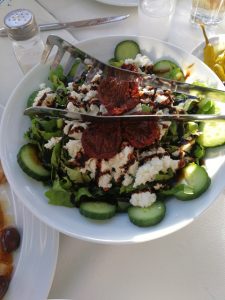 As we drove to the restaurand I had asked If we could have octopus, the answer was "there is only one thing that you can give for granted, that is that you will have Octopus, it is a standard. Octopus was great in taste.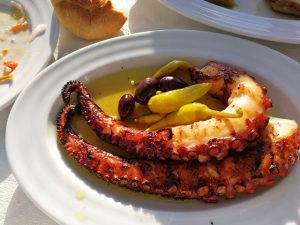 Another great dish was a mix of fish egg tomatoes and Fetta cheese.  When this plate arrived we were already on our third bottle of Ouzo. One of our hosts commented that if you drink while eating there is no problem but if Ouzo ist taken alone then it becomes dangerous.  That was the mistake back in 1988.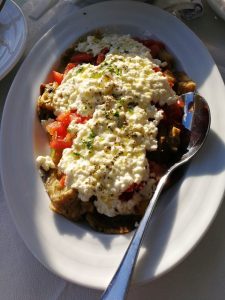 The two final dishes were to different sorts of fish fried.  We topped the whole with chocolate salami.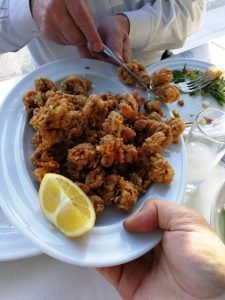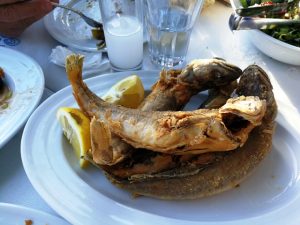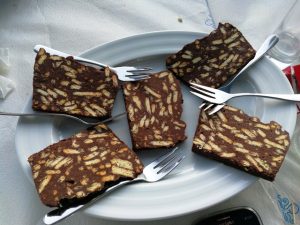 As said before you can take a look at all the picture of the meals on our site at businesstripmeal.com episode 12
On the second day visiting the customer a new plate of pastries was waiting for us on the table at the meeting room.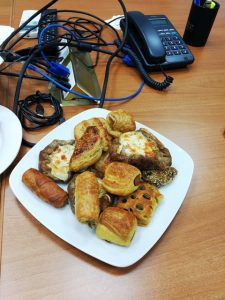 It was a great way to wrap up what had been a very positive visit.  All the products we tested passed the processing step with little adjustments to the machines.  We still have to go through other approvals but the first phase was finished with success.
We drove back to the airports sharing stories of all kinds.  The plane was there waiting for me. I landed later in Frankfurt.  I drove to my home town and on my way I enjoyed a beautiful sunset.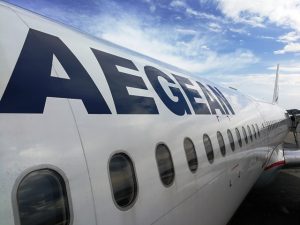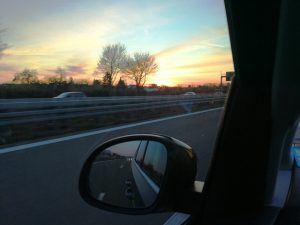 Thank You for listening. I hope you enjoyed this story, as said before you will find pictures and useful links to the places and meals mentioned in this episode on the show notes at businesstripmeal.com episode 12.   In the next episode I will tell you about my last travel to Oradea in Romania via Budapest, I had nice and not so nice meals on that trip. Until that moment I wish you good businesses, great trips and even better meals.  Goodbye.
---