BTM11: Denmark's National Dish 'Stegt flæsk'






Podcast: Play in new window | Download (Duration: 9:04 — 8.3MB)
Subscribe: Apple Podcasts | Google Podcasts | RSS
Hello and welcome to the Business Trip Meal Podcast.  My name is Mario Alvarez and I'm a business traveller.  In this episode I will tell you the story of how I was introduced to Denmark's Official National Dish. It is very interesting for me to reflect and think that after having visited so many countrys this particular visit to a customer was the first time I could discover a meal called National Dish.  Let me now tell you about the business travel context of this particular discovery, and let me also quote the story about how this plate was elected as a national representative.  Now please enjoy.
-Tell us Mario, what is your advice?  The customer asked
-I'm afraid it is not going to work, I said.  But there is only one way to confirm if I'm right and this is by testing the product.
-Yes we know, we will place an order to get the new product and will run tests.
Months later after that first meeting I came back to visit the same customer, they had tested a different product, and then a second one and a third one they even tested a couple of competitor products with no luck.  I was invited to assist the last trials and once more we were unsuccessful.  "Let's summarize please", said the project manager later at the meeting room.  "You will have to change the set up I said".  Otherwise no product will work with the current system; it was adapted to use the very first product which we do not produce any more.
We know now, that's what you told us six months ago said their boss, we wanted to try the most economical solution but it seems we can't avoid investing in a new set up.  Any way we thank you for your transparency, it's getting late, I would like to invite you for dinner.
We went at the local hotel where I was staying, I checked in and went back to the hotel restaurant, the Ans Kro.  Mr. J. was waiting for me at one of the tables.  We chatted for a little bit about sport.  He had been practicing Cross Fit for more than a decade, he explained about the nice comradery reigning among the fans of that sport. The waiter brought the menu, I asked Mr. J.  who immediately requested "please call me B." to make a recommendation.  He smiled and asked, "do you know Denmark's national Dish?"  We ordered it and I had a heavy but tasty dinner.  B explained that in 2014 the agriculture minister organized the election of the national dish among several specialties.  Thousands of people voted and the Stegt flæsk or Crispy Pork won the popular election getting the status of national dish.
This story and the long working day made us thirsty.  We ordered the local beer, a Tuborg Classic.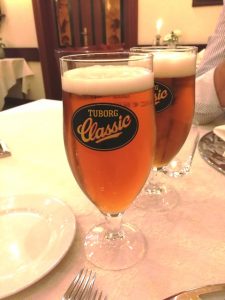 As usual you will find on the show notes pictures of this dinner and other images of the trip as well as links to the restaurants, hotels and products mentioned in this episode.  Just go to businesstripmeal.com/episode-11.
After bringing the beer the waiter arrived with some dark bread and a special butter mixed with seasoners and almonds.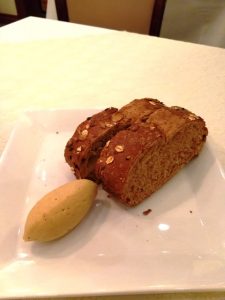 It looked great and I wanted to try it.  B warned me, please just taste it don't take too much, the common mistake is to eat before the Stegt flæsk arrives.  You will soon understand.  In fact on the menu a side note next to the dish name stated "only for two people"
The bread and butter was great, when I swallowed the little portion I had taken, the waitress arrived with a bowl of potatoes, a dish with slices of beetroot and another with pickles. She went back to the kitchen to bring a jug of parsley sauce.  The last bowl to arrive was filled with Crispy Pork slices.  The quantity was for sure bigger than what two persons could eat.  I took my first portion and B did the same, I took three potatoes some slices of beetroot and some pickles, then I took three slices of Crispy Pork.  Finally I covered the potatoes with the parsley sauce.  I got some courage by taking a sip of my Tuborg beer and started to taste this National Winner.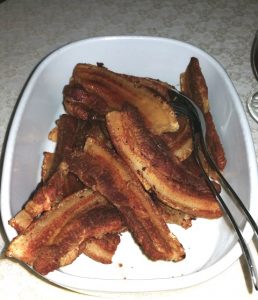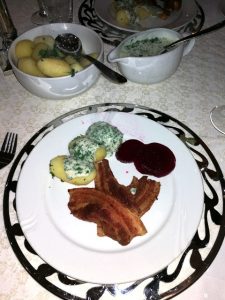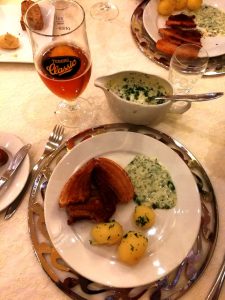 I found it to be very masculine.  I could eat this combination at any time.  It was like eating food from a pub but at the same time I had the feeling that my grandmother could have prepared this meal as well.  B and I managed to eat seventy percent of what was served to us and we had a second round of beer also but then had to give up.  The portion was in fact for three strong guys.  I was satisfied and happy, the food had been great, the conversation as well and even if the project with the customer was hitting some obstacles the atmosphere was friendly and the spirit of cooperation was strong.
Eight months after this meeting I had to visit the same customer to help with another issue.  I flew to Billund where my colleague D. the account manager was waiting for me.  We took the road and arrived to the same hotel one hour later just in time for dinner.  We checked in and went to the restaurant.  Since I had told D. about the Crispy Pork he accepted to taste it and so we repeated the Stegt flæsk ritual.  It was even better than the first time, I guess that when expectations are met this gives you the sense of a higher accomplishment than the first experience.  The next day we faced a complicated puzzle of theories about the cause of the new processing issues.  To break the ice, when we were asked if we have had a good trip the day before I told about the dinner and everybody smiled as If I had mentioned a national hero.  The mood changed and we worked with a positive spirit.  I was able to find a solution and the problem was solved.  I'm willing to adopt a superstition, I need my Crispy Pork as a ritual before supporting customers in Denmark.
Thankyou for listening. I hope you enjoyed this story, as said before you will find pictures and useful links to the places and meals mentioned in this episode on the show notes at businesstripmeal.com episode 11.   In the next episode I will tell you about my first visit to Greece and all the fantastic food I was able to taste there.  Until that moment I wish you   good businesses, great trips and even better meals.  Goodbye.
---