Business Trip Meal Podcast Episode 6






Podcast: Play in new window | Download (Duration: 15:06 — 13.8MB)
Subscribe: Apple Podcasts | Google Podcasts | RSS
In this episode you will listen to three more short tales about meals with the boss.  These are stories 4 to 6 of a series of twelwe I will be delivering in four episodes from which this is the second.  I will tell you about a super sales man, about having dinner with two bosses with oposed personalities and about an arrogant boss with attitude problems.  All those ocured to me in different points of my career.
Hello and welcome tho the Business Trip Meal Podcast, My name is Mario Alvarez and I'm your host.  Today I will be reading three of twelve short tales I wrote about some experiences I had during my carreer that are about having a meal with the boss.  I have met several people in the role of direct boss or boss of another entitiy with wich I was collaborating.  Some interesting experiences occurred thanks to the interaction with those persons.
These are  the stories about Business meals with your hierarchy. Cases 4-6 of 12.
4 Gastronomic tour with a Champion.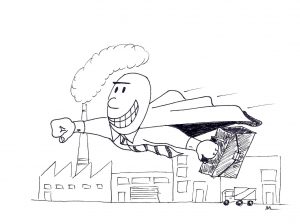 The next manager I had to meet was the responsible for Spain and Portugal, Mr. F.C.  We already had shaken hands in a previous general meeting in Germany so I had also a first impression about him.  He was fluent in German and had a logical and clear way to communicate.  What impressed me the most was that when he talked everybody listened.  A one to one meeting was the next step.  I was considering meeting him for dinner or lunch in Spain.  I called him and was surprised when he said "we will have time to think about food don't worry. I have organized already a one week visit tour to our most important customers, we will present the strategy during that time, the sales guys will come with us, why waiting? Let's profit that you will be here."  And so we did.  I arrived to Barcelona were Mr. M.F. was waiting for me and we took a plane to Alicante.  During the flight I noticed that Mr. M.F. knew already every single aspect of the strategy and had generated sub-strategies for each of the important accounts and had asked his sales guys to start implementing them.  
At the airport in Alicante Mr. J.C. the area salesman was waiting for us.  He took us to our first gastronomic stop.  "You know Mario here what we like are the "Arrocitos" he said" that was the local name for a Paella.  We entered a restaurant, ordered a couple of Arrocitos something to drink and later visited the first customer.  Both Mr. M.F. and Mr. J.C. were brilliant dealing with the customers.  They communicated very well, transmitted the purpose of our visit and explained the strategy smoothly.  At the end of the meeting we invited the client to have dinner together.  We had a great first dinner.  Next day the temperature was really high, Mr. M.F. was waiting for us for breakfast at the bar of the hotel and had a beer in his hand.  "Hi Mario, I was already looking at the numbers of the next customer we are visiting.   This one will be difficult but we will manage".  And we did. Later we visited a fantastic place close to Murcia specialized in Ham.   We had some time before the next visit and I was taken to the local market where I bought one meter of Chorizo Iberico and a "small" four kilos Pata Negra Ham.  I don't know what was better if the nice places we visited for lunch and dinner or the performance of my two colleagues in front of the customer.  
After three days alternating food and business Mr. M.F. and I flew back to Barcelona for another couple of days visiting more customers.  There the local salesman Mr. F.R. took the lead.  It was not a surprise anymore but I was still impressed because his boss Mr. M.F. knew the status of his accounts better than he did.  He reminded him during the next discussions how many orders had been generated by the customer, how many deliveries were on the row, and what the contribution margin was for each product.  Mr. F.R. became a little bit nervous but his boss never pushed beyond a "motivation" level.  In Barcelona the same good food-business-good food path was followed, sometimes together with the customers and sometimes not.  It was a great visit, very productive and effective.  And I was happy to have met a real champion.
Lesson 1: After having to do with a misfit it's great to meet a Champion, there are some.
Tip 1:   Next wave will be better, don't give up.
Lesson 2: Each country has different business rituals.
Tip 2:  Be open to taste everything but do carry an Alkazeltzer with you. 
5 He who serves two bosses might make none of them happy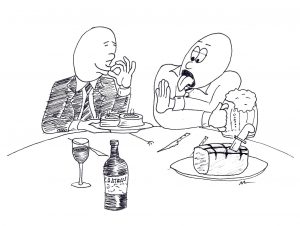 After the first year working in my new position in France it was time for a review of my performance.  In fact all employees were evaluated and the bonus was directly related with the result of the evaluation.  In my case my disciplinary local boss Mr. N. and my operational boss Mr. B. had to discuss with me and then judge my performance, we took the chance to meet during a visit of Mr. B to Paris.  The meeting went well and later it was dinner time.  Both Mr. N. and Mr. B are German.  Mr. N. nevertheless is a "Francophile" and has a wide culture in French matters.  Mr. B. on the other hand had strong ties with the German tradition.  I was in charge to find a restaurant were these two characters could be pleased.  Mr. N told me that since we were hosting we should look for a place Mr. B. would like.  I knew Mr. B. was a Fleisch Fresser, a fan of meat so I did some research on that direction and found Au Boeuf Couroné, the crowned bull.  This is a restaurant that survived the relocation of the old meat market from la Villete.  The restaurant had also a nice selection of wines which was going to please Mr. N. Bingo!  
To get to the place we had planned to take the subway.  Mr. B. looked stressed by the experience but survived.  When we arrived to the restaurant a tall guy, the Maître showed us our table and asked if we would like to drink an aperitif.  There began the display of two different tastes and personalities.  Mr. N. proposed a Kir Royal a mix of champagne and cassis but Mr. B. said he needed a beer.  Not being in Germany the beer selection was rather poor, Mr. B took a bottle of that green brand they produce in Holland.  I should have asked for a "Beer Royal" to play the political card but I went for the Kir.  On a second round Mr. B. Accepted to drink a red wine selected by Mr. N. to go with the meat but first we should test a delicatessen he had found in the menu, a plate of "Os a Moelle", marrowbone.  This is the leg bone of the cow cut and boiled, you eat the marrow with a sprinkle of salt.  Mr. B. Did not hide his disgust when he saw the dish and it was impossible to convince him to try it.  The main dish selection was again quite uneven.  Mr. N. ordered a subtle Steak Tartare, spiced raw meat with salad.  Mr. B. ordered the 750g. Filet Charolais.  This time I joined Mr. B.  You can imagine that as dinner went on these two guys never asked for the same option. For dessert one boss had Tiramisu the other Crème Brulée, one asked for a "deca" and the other for a cappuccino.  The important thing is that at the end we were all satisfied and I was happy with the outcome of the experience.
Lesson: Jean Paul Sartre wanted everybody's happiness.  Albert Camus wanted each one's happiness.  Both can be tricky to accomplish.
Tip: Make two bosses 70% happy each is better than one 100% and the other not happy at all.
6 Ground control to major boss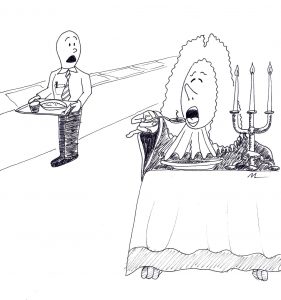 The worst case of arrogance I have ever seen occurred before I left Mexico.  Mr. I. had been appointed as our new area President.  His predecessor Mr. H. was the nicest guy and we were sad he had to leave but his career evolution asked for him to go back to the headquarters in Germany.  The new big boss arrived some days before the company had its Christmas party.  In those days we still had big events, a big party room was rented and food, drinks and music flooded the whole night.  At some point all managers took the microphone to wish everybody Merry Christmas and happy New Year, Mr. I was presented officially during that event and had some nice words for all of us and wished a successful collaboration and business to the team.  One of the highlights of the night was that somebody had the idea to rent foam body builders disguises for all managers and organized some kind of funny Chippendale choreography.  All ladies played their part of the game and screamed and waved as our bosses pretended to be muscular dancers.  It was funny and the new President seemed to have fun being part of the show even if he looked a little bit stiff.
In the following weeks all employees witnessed a very particular change in the lunch routine.  What usually happened was that each person would take a tray at the cafeteria and queue to get food, a starter, soup, a main course and a dessert.  Then you could look for a free table and have lunch with colleagues.  Mr. I. had asked to be served, not at his office like some managers did, but at the cafeteria, on a table with special cutlery and napkins.  He would not queue but someone would bring his meal to his table while he sat there between the other tables.  That was not the only weird behavior we hat to experience, those would cost Mr. I. its job in the midterm.  It was a sad case of a person loosing contact to the ground but the saddest was that several people lost their job due to that person and his weird character.
My only contact with that Director occured during a breakfast to which ten employees chosen randomly were invited twice a year.  This breakfast was hosted by the Director and was an opportunity to exchange on different topics and get the boss to contact regular employees.  The arrogance of Mr. I. was evident from the beginning in his attitude, the tone of his voice and the things he said .  He asked some question to which I responded critically and frankly.  He was pissed by my answer.  He was aware I was going to be transferred to France, after my answer he said, "when are you finally leaving?" 
Lesson:  It is not impossible that the weirdest people reach leading positions.
Tip:   low profile might be a wise way to avoid problems with such persons, but if you do not like your boss the best thing to do is to move.
Thanks for listening I hope you enjoyed this anecdotes. The next stories 7-9 will be published soon.  In the mean time I wish you good businesses, great trips and even better meals.  Goodbye.
---